You've ordered a gateway. Whether the technology is foreign or familiar to you, you may think that installation will be tricky. Luckily, this is not the case! Here is some basic information about our gateways and some tips for setting up your gateway.
Gateways at a glance:
Range: 1.5-2km (farther on flat terrain and with a higher placement of the antenna 3-4km)
Number of Devices that can connect: ~2000 when connected to ethernet, ~50 when using cellular data
Below are a list of components, connection instructions and general tips to help you get started with your gateway.
There are 3 antennas in the box:
2 cell antennas

1 LoRa antenna
The box also contains:
1 ethernet cable

1 power adapter
You may also have received:
1 XL antenna

1 XL antenna extension cable
Installation
These should be connected to the rear of the Multitech Conduit as follows:
1 cell antenna should be connected to the port marked "CELL"

1 cell antenna should be connected to the port marked "AUX"

The LoRa antenna should be connected to the port marked "RF" (If you've received the XL antenna, attach the XL antenna cable to the gateway and to the antenna.)
Place the antenna on a stable surface, protected from wind, rain, and hail. The gateway is NOT waterproof!
Place the gateway in a location that minimizes obstruction to the antenna. With the XL antenna, place it as high as the antenna cable allows. The higher, the better.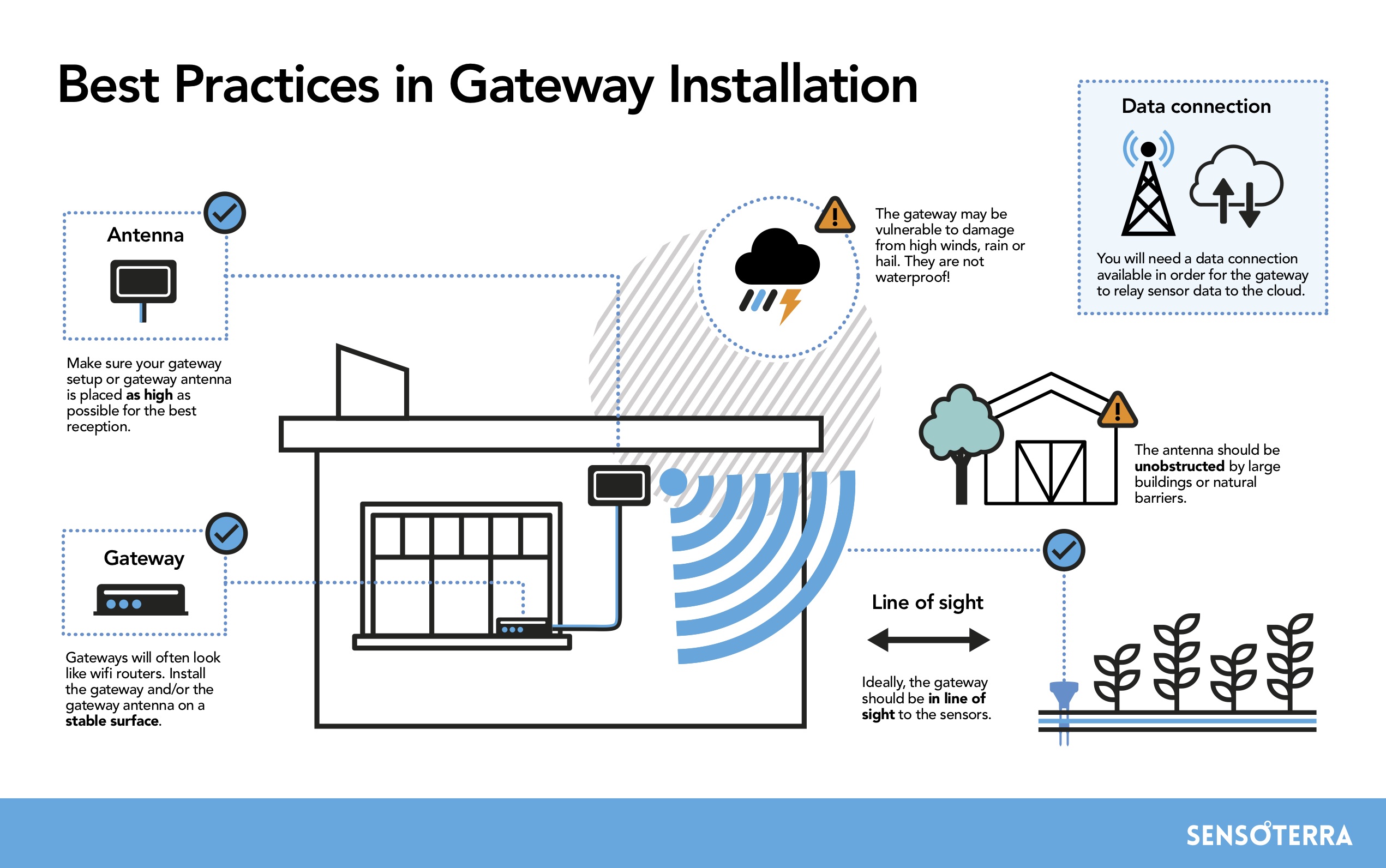 (Available as a PDF below.)
Gateway lights:
Once the gateway is powered on, lights will display on the front panel as follows:
| | | | |
| --- | --- | --- | --- |
| Label | | Name | Description |
| PWR | PWR | Power | Solid green if DC power is present. |
| STATUS | STATUS | Status | LED blinks when the system is running. |
| LS | LS | Link Status | - |
| A | CD | Cellular | Cellular backhaul used (instead of ethernet) |
| B | _ | Internet | Internet connection present |
| C | = | Dispatch | Connection to LoRa servers ok |


Gateway placement
The gateway should be placed as high as possible for the best reception. Ideally, this would be in line of sight to the sensors.
If the gateway you purchased included a SIM card with a data connection, please make sure that the gateway is placed in range of a cellular tower.
Sensoterra has antennas and cables available for purchase that can improve and or extend the range of your gateway.

The steps for setting up the gateway are very simple. These can be followed in the video below.
If you've ordered a GSM/Cellular connection with your gateway, then the SIM card has already been installed. You should be able to plug the system into the power and the gateway should be online within 15 minutes.